People Mag connected with my girl J-Simps to find out what she'd be reading over the Summer. (Jessica-Simpson-Can't-Read-Dumb-Blonde jokes can check their baggage at the door please.) Looks like she's got a great list compiled full of crime, cooking and conscious thought!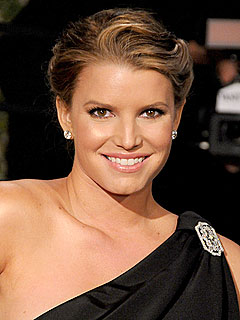 Jessica Simpson is looking for a mix of inspiration and intrigue this summer judging by the eclectic group of books she has lined up to read on her Kindle. The singer-actress, who turns 30 in July, is set to unveil her summer reading list on Amazon.com.
Her choices range from cookbooks to good old-fashioned crime and mystery novels. The list also has an international flavor, perhaps reflecting the time Simpson spent abroad shooting her reality show, The Price of Beauty.
I absolutely
adored
'the Price of Beauty.' I cried every
single
ep. It was a real eye-opener for me (and her, as that was the whole point) to find out what other cultures value as beauty and the extremes women go to. Not unlike our own culture, some women's quest ended with horrifying, unalterable results. I'm glad Jess decided to take a journey like the one she did. And she's received so much support because of it. I mean, she's been invited to the
Women's Conference
so they obviously believe she has something important to say. So it looks like this new and true Jessica is here to stay and with that comes a profound and exciting reading list, lol. You can find Jessica's book list after the jump =)
Here's what she'll be curling up with, in bed and on the beach, over the next few months:
•
Shantaram
by Gregory David Roberts. It's a "thrillingly undomesticated potboiler" set largely in India. Good thing she has the e-book! The hard copy is almost 1,000 pages – not exactly light pool reading.
•
How to Cook Everything
by Mark Bittman. Little sister Ashlee has called Jessica "an amazing cook." These recipes are bound to keep her busy for a while.
•
The Best Kind of Different
by Shonda Schilling. Baseball player Curt Schilling's wife's account of raising a son with Asperger's Syndrome – and a natural topic of interest for Simpson, who is involved with health and children's charities.
•
Deception
by Jonathan Kellerman. The author's latest Alex Delaware mystery crime novel promises more shocks and surprises than an interview with John Mayer.
•
The Whole Truth
by David Baldacci. A terrorism-themed international thriller. The only author on the list to have appeared, like Simpson, on PEOPLE's Most Beautiful list (back in 1997).
•
Made for Goodness
by Desmond Tutu. Faith-based beliefs about human nature from the Nobel Peace Prize winner. He argues that people are essentially good – an optimism Simpson might not have shared at times over the past year.
•
The Power of Now
by Eckhardt Tolle. A book about finding happiness by living in the present rather than the future. Not a bad choice for a single gal turning 30!
• All
Paulo Coelho
books. Simpson has taken some of the Brazilian novelist's views on life to heart. Quoting him on Twitter last year, she wrote: "In the search for your destiny, you will often find yourself obliged to change direction."